Wondering if your car requires paint correction?
Look out for signs like dull, faded paint, swirl marks, and noticeable scratches!
These imperfections not only diminish your car's aesthetics but can also reduce its resale value.
Paint correction is an important process for maintaining your car's best appearance.
In this extensive manual, we will delve deeply into the world of paint correction in El Segundo
covering everything from typical paint defects to the methods, equipment, and procedures needed.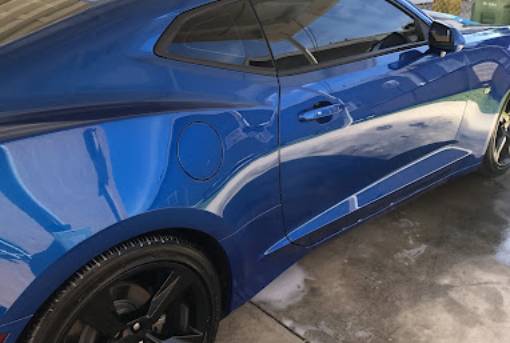 What is Paint Correction?
Paint correction is a specialized procedure that aims to revitalize and restore your car's paintwork, returning it to its original, faultless state. Investing in paint correction in El Segundo has several benefits. Not only does it restore your car's original shine and finish, but it also provides a protective layer against future damage. Moreover, it can significantly enhance the resale value of your vehicle, making it a smart investment for the long run.
What are the Different Paint Defects?
Understanding the typical paint defects that your car might experience in El Segundo's particular environment is crucial before we delve into the complexities of paint correction:
Swirl Marks- These fine, circular scratches are often a result of improper washing techniques or contact with abrasive materials.
Scratches- Scratches can damage your car's finish and demand careful attention, whether they are caused by a minor parking lot accident or road debris.
Water Spots- The coastal environment in El Segundo can cause water spots that, if ignored, can etch into your paint.
Oxidation- El Segundo's relentless sun can oxidize paint, giving it a chalky appearance and a dull finish.
Bird Droppings- The corrosive nature of bird droppings can damage your paint if not cleaned quickly.
What are the Paint Correction Techniques?
In the field of paint correction in El Segundo, a variety of methods are used, each addressing particular requirements and degrees of paint damage:
Hand Polishing- This method entails applying polishing agents with your hands and removing flaws. It's ideal for minor imperfections.
Machine Polishing- This technique, which makes use of specialized polishing machines, works well for defects that are more noticeable.
Wet Sanding- Wet sanding is only used for major paint flaws and deep scratches because it can further damage the paint.
Necessary Tools and Materials for Paint Correction in El Segundo
To execute a successful paint correction job, you'll need the right tools and materials at your disposal:
Polishing Pads- These come in various levels of aggressiveness and are essential for different correction stages.
Polishing Compounds- Choose compounds designed to address specific paint defects, from mild to severe.
Microfiber Towels- Soft, high-quality microfiber towels are essential for wiping away polishing residue and achieving a streak-free finish.
Clay Bar- Clay bars are used to remove contaminants embedded in the paint, ensuring a clean surface for correction.
Steps to Paint Correction
It is time to start the paint correction journey now that you have gathered your tools. The essential steps are as follows:
Prepare the car properly by washing it to get rid of any loose dirt or debris.
Wash and thoroughly clean the car to remove contaminants and prepare the paint for touch-ups.
Pay close attention to how the paint is holding up, spot defects, and start the correction technique.
Based on your inspection, choose the correct technique and tool for the correction.
Start the correction process, using the selected technique and working in sections.
To protect the results after corrections are finished, use wax or a sealant.
Guidelines for Successful Paint Correction
Paying attention to detail and using some insider tricks will help you achieve the ideal paint correction in El Segundo.
To ensure thorough correction without missing any spots, divide the vehicle into manageable sections.
To prevent causing more harm, apply consistent pressure but not too much.
Choose products that work well with the type of paint on your car and the particular defects you are trying to fix.
To achieve perfect results, ideal temperature and lighting conditions can make a big difference.
Endnote
Paint correction in El Segundo is more than just aesthetics because of the intense sunlight and abundance of coastal elements. It also helps to maintain the value of your car and make sure it still attracts attention. You can keep your car looking showroom-fresh for years to come by comprehending the process, spotting flaws, and using the appropriate techniques and tools.
Final Thoughts and Recommendations
If you are unsure about handling paint correction yourself, do not be afraid to ask a professional for help. We, at Leading Mobile Detailing, are your neighborhood experts in El Segundo, committed to assisting you in protecting your investment and maintaining the beauty of your car. To schedule your service for paint correction in El Segundo and see the difference for yourself, contact us right away.
You should only give your car the best!