In the quest to keep our vehicles looking pristine and protected from the elements, ceramic coatings have gained significant popularity, and top mobile detailing services offer amazing ceramic coating applications for a total makeover of your vehicle. These coatings provide a long-lasting, high-gloss finish while offering superior protection against environmental contaminants. But have you ever wondered about the science behind ceramic coatings?
In this blog, we will delve into the fascinating world of ceramic coatings, exploring how they work, their benefits, and why they are considered a game-changer in the automotive industry.
Ceramic Coatings
Ceramic coatings, also known as nano-ceramic coatings or glass coatings, are liquid polymer solutions that, when applied to a vehicle's paintwork, create a protective layer that bonds with the surface.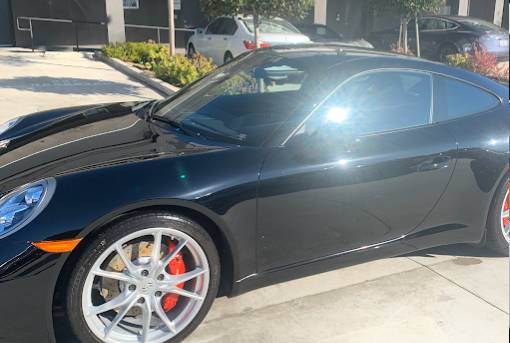 This layer forms a durable, transparent shield that is highly resistant to scratches, UV rays, oxidation, chemical stains, and other environmental hazards.
How Ceramic Coatings Enhance and Protect
Superior Protection
When it comes to protecting your vehicle's paint, ceramic coatings offer a level of defense that surpasses traditional methods. The strong bond formed between the coating and the paint creates a protective barrier that acts as a shield against various hazards. Whether it's road debris, minor scratches, or chemical stains, the ceramic coating acts as a sacrificial layer, absorbing the impact and protecting the underlying paint.
This superior protection is possible due to the advanced chemistry of ceramic coatings. The nanoparticles present in the coating form a tightly knit network that reinforces the paint surface. As a result, the coating can withstand the wear and tear of daily use, keeping your vehicle's paint looking fresh and untouched.
Looking for a top mobile detailing service? Let's connect.
Hydrophobic Properties
One of the remarkable characteristics of ceramic coatings is their hydrophobic nature. The nanoparticles in the coating create a surface with countless microscopic peaks and valleys. This textured surface reduces the contact area for water and other liquids, causing them to bead up and roll off the surface.
The hydrophobic effect offers several benefits. Firstly, it makes washing your vehicle a breeze. As water beads up and rolls off the surface, it carries away dirt, dust, and other contaminants, minimizing the need for vigorous scrubbing. Additionally, the hydrophobic nature of ceramic coatings helps maintain a cleaner appearance for longer periods of time. Rainwater, for example, will simply slide off the surface, leaving behind a spot-free shine.
UV Protection
The sun's powerful UV rays can wreak havoc on your vehicle's paint over time. Long-term exposure to sunlight frequently results in problems like fading, oxidation, and color degradation. However, ceramic coatings provide excellent UV protection, acting as a shield against these harmful rays.
The nanoparticles in ceramic coatings have the ability to reflect a significant portion of the sun's UV rays. By doing so, they reduce the amount of UV radiation that penetrates the paint surface. This helps preserve the color vibrancy, depth, and overall appearance of your vehicle's paint for a longer duration. With ceramic coatings, you can enjoy a vehicle that looks newer and retains its original shine for years to come.
Self-Cleaning Effect
Thanks to their hydrophobic properties, ceramic coatings also exhibit a self-cleaning effect. As water encounters the coated surface, it naturally beads up and carries away dirt, dust, and other debris. This self-cleaning effect significantly reduces the frequency of manual washing required to maintain a clean appearance.
By minimizing the accumulation of dirt and contaminants on the paint surface, ceramic coatings contribute to the long-term preservation of your vehicle's paint. Furthermore, the reduced need for frequent washing helps minimize the risk of swirl marks and scratches that can occur during the washing process.
Application and Maintenance
The application of ceramic coatings requires careful preparation and attention to detail. It is recommended to have the coating professionally applied to ensure proper bonding and optimal results. The procedure entails meticulous surface cleaning and preparation, which is then followed by the precise application of the coating. Once applied, the coating requires curing and drying time to fully bond with the paint.
To maintain the effectiveness of the ceramic coating, it is essential to follow proper care and maintenance practices. Regular washing using pH-neutral soaps and gentle cleaning techniques is recommended. Avoid harsh chemicals, abrasive cleaners, and automatic car washes that may compromise the integrity of the coating. Periodic inspections and touch-ups may be necessary to maintain the coating's performance over time.
Wrapping Up
Ceramic coatings have revolutionized the way we protect and enhance our vehicles' paintwork. With their advanced chemistry and remarkable properties, they offer unparalleled protection, durability, and aesthetics. By understanding the science behind ceramic coatings, you can make an informed decision and invest in this cutting-edge technology to keep your vehicle looking its best for years to come.
For top mobile detailing services, get in touch with Leading Mobile Detailing.